RHINO SHELTERS PORTABLE
SHELTERS
At Rhino Shelters, we know that each customer has unique requirements when it comes to their shelter needs. That's why we carry a variety of product types, shapes, sizes, and colors. From storage sheds to party tents, check out all our products below.
We're all about convenience! All of our shelters come with pre-drilled frames that make assembly easy and quick. Our easy-to-follow assembly manuals ensure seamless installation!
Check out our YouTube Channel. We have multiple setup videos that can also help with your new install.
COMMITTED TO
DURABILITY AND
STRENGTH
When you invest in portable outdoor protection, you need something that is built to last. That's why Rhino Shelters uses the highest quality materials to create our products.
You deserve the peace of mind knowing your valuables are safe. Learn more about how the materials we use on our portable shelters doesn't just bring a longer life span to your shelter, but how it enhances the level of protection you get for all your belongings.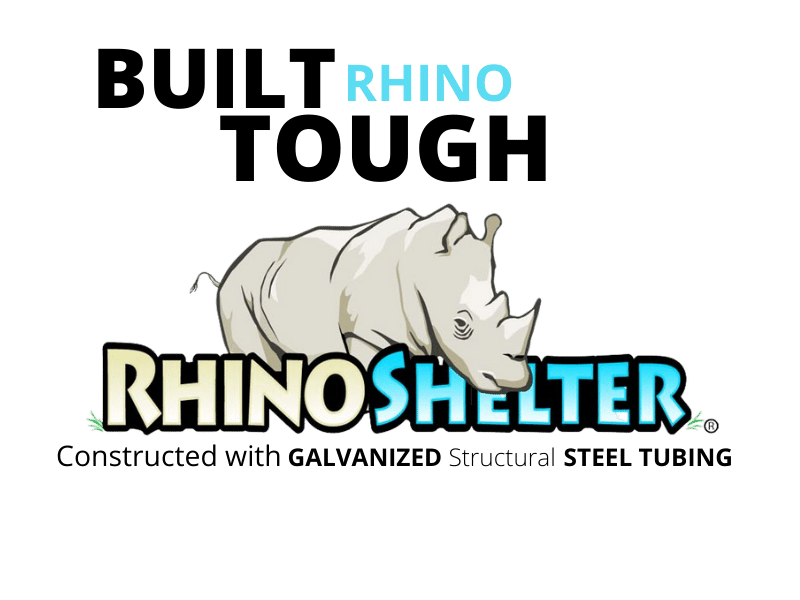 Stay informed with the latest Rhino Shelters news
Join our mailing list to receive the latest news and updates from our team.
100%
We've got Your Covered
When it comes to portable protection, we don't just deliver the best products on the market. We keep you up-to-date on the industry's latest products, trends, and tips. Check back regularly for updates or subscribe to our newsletter to get the latest news.
Today the market has many portable structures available for purchase to suit preferences and financial plans. The portable garages arrive with diverse sizes and styles altered to suit the finickiest customer. There is the economy storage shed for cost-effective options and …

Lawnmower storage preparation is essential if you want to get the longest life out of your machine. Now that the fall is in full swing and the growing season is coming to an end, you need to consider how you will …

If you have a recreational vehicle (RV) then you need an RV portable garage, unless you are on the road year-round you need a place to park it when it is not in use. If you leave it exposed to the …
CONTACT US
Have a question? Need more info on one of our products? Fill out the contact form to talk to a dedicated and knowledgeable member of our team. Please allow 24-48 hours for a response.